MWC23 has been the framework chosen by the Government to announce the extension of the call period for the aid programme aimed at encouraging the digitalisation of SMEs with up to 49 employees until December 2024. More than 150,000 companies have benefited from the programme, with a budget of 3 billion euros.
This was announced on Monday by the First Vice-President and Minister for Economic Affairs, Nadia Calviño, who took advantage of a press conference at the Mobile World Congress to announce the extension of the programme. This authorises the disbursement of 850 million euros in bonds for small and medium-sized enterprises to acquire basic digital services.
The government has so far announced aid of more than 1.5 billion euros in three different phases, one for companies with 10 to 49 employees, another for companies with 3 to 10 employees and a third for the self-employed and entities with up to two employees'.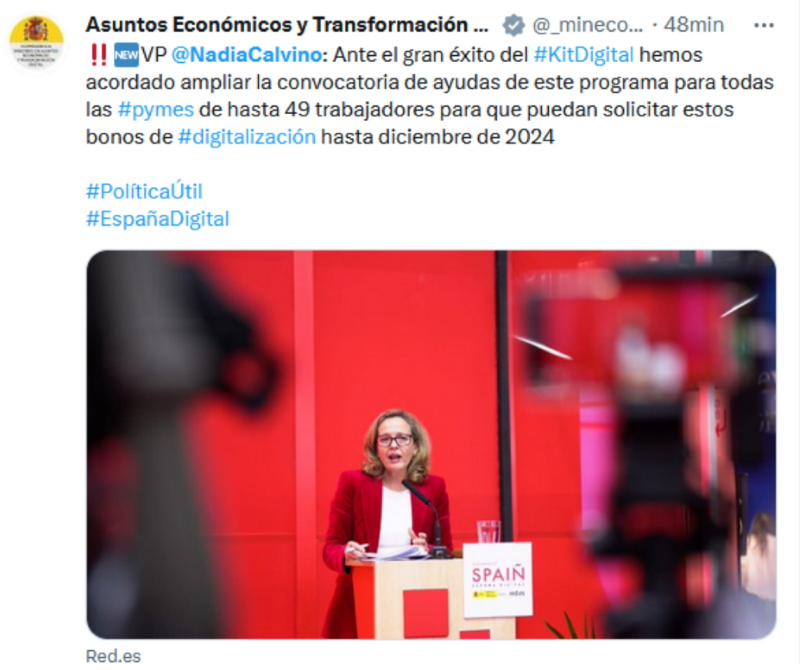 So far, a total of 155,000 companies in Spain have received aid from this programme, among which bonds worth 850 million euros have been distributed.
At Dynasoft we have accompanied many of our customers in the deployment of the "Kit Digital", especially by implementing Microsoft's Modern Workplace solutions, and the fact is that the suite of products from the world's leading software manufacturer is the perfect solution to address the challenge of digital conversion, either thanks to the classic solutions such as
Word
,
Excel
or
Outlook
, but also incorporating
Teams
,
Shifts
,
Tasks
,
Power BI
, or the
Dynamics
suite, of which we highlight tools such as
Business Central
,
Sales
,
Customer Service
or
Marketing
.