Perhaps you have ever wondered who is behind Dynasoft's technical support and how they keep up to date with all the changes in Microsoft Dynamics Business Central (formerly known as Navision). Behind it is a team of 14 programmers led by Ponç Llaneras, who this year celebrates 25 years of programming almost exclusively on Navision, NAV and now Business Central. Who better than him to explain what it is and what Microsoft ERP can do for any business.

We turn to him (and his extensive experience) to comment on the changes that Microsoft has announced for 2023.

Where and when did you start your career as a Navision developer?
As a Navision programmer I started in 1998 in a Mallorcan company called Sistemas de Gestión de Baleares (also known by the acronym SGB). At that time, the product was called Navision Financials, and it was in version 2.0. At that time it was not yet owned by Microsoft, but by a Danish company.

It's certainly been a long time... to get an idea, what version are we on now?

[Smile], we're officially on version 21. The product has certainly changed a lot, but it retains its essence and the philosophy that made Microsoft keep its eye on it.


What made you make the decision?
Until then I had been working in the accounting department of a company called Thomson Turismo y Viajes, which was the company that the British tour operator Thomson had created in Spain to manage its bookings (what is called an incoming agency). I had graduated as a computer scientist and I was eager to change, and as there were not many options to do it in the company where I was, I started looking for offers and doing some interviews... finally after the interview in SGB, I decided that it was the best option to start my professional life as a programmer.

Why Microsoft, what advantages does it offer over other vendors?
As we said, at that time, Navision was a Danish company with nothing to do with Microsoft... A few years later, Microsoft made its master move, buying Navision A/S (which, in addition to the ERP Navision Financials, also included Axapta, which had merged shortly before). Microsoft already had 2 ERPs in its portfolio, but they were almost exclusively for use in the United States (Solomon and Great Plains), whereas Navision Financials (and Axapta) had been designed from the ground up to adapt to all markets, and the US was one of them.

Back to the question... Microsoft has been a key player in computing since the birth of personal computing. It seems to me that the combination of a good ERP like Navision and under Microsoft was, and still is, a Win-Win in every sense of the word.


Microsoft currently gives us an ecosystem of applications that can be integrated with very little effort and that no other manufacturer gives you (Office 365, Power Apps, ...), the possibility of using it in its SaaS service, with an ease of use that no other manufacturer offers worldwide. The AppSource (Microsoft App Store) for Business Central is another feature that no other manufacturer has brought to the table for an ERP.

I know it sounds obvious, but what is Microsoft Dynamics Business Central for?
For starters, it's an ERP that falls under the umbrella of Microsoft's business applications (hence the name "Dynamics"). An ERP includes accounting, invoicing, warehouse management and other features that may or may not be implemented, but in the end it is an application that helps the company to cover every aspect of its business, some come as standard, and in others we are the Partners to add or modify the functionality that the client needs and that is not included as standard.


In this competitive and volatile world, is it easy to keep up?
The truth is that Microsoft is betting on enterprise applications and its entire 365 ecosystem. Looking at it in perspective, we have had several technology leaps in Navision:

- Multi-language baseline in Navision Financials 2.50
- New menu system in Navision 4.0
- New RTC client and ability to publish Web Services in NAV 2009
- Elimination of the classic client in NAV 2013
- New v1 extension system in NAV 2016
- New v2 extension system in NAV 2018
- Business Central can be purchased in SaaS mode
- Removal of the RTC client in Business Central 15


And not only the technological changes that the platform has undergone, but also the internal improvements, at a functional level, that are being added version by version. It's not easy, and part of our job is to see what's new in each version and then extract what can benefit our customers the most; it's an ongoing effort.

On the volatile side, it is worth noting that of the 4 ERPs that Microsoft had in its portfolio (Navision Financials, Axapta, Solomon and Great Plains), the ones that came from Europe (Navision Financials and Axapta) are the ones that Microsoft continues to maintain, i.e. Solomon and Great Plains were the victims and disappeared, although Microsoft did not totally forget about them and offered them a system to migrate their data to the new platforms. This is something that having a big player like Microsoft behind you usually guarantees.

Speaking of evolution; Microsoft has ended support for the last remaining version of Dynamics NAV, how is this going to affect NAV 2018 users?
First of all, I would say that there is no need to be nervous. We, as partners, continue to cover what the customer needs, but the end of support implies:
- No new Cumulative Updates (these are the monthly updates that Microsoft releases since the first version).
- No new bug fixes.
- There will be no new functionalities, for example, related to taxation, which are the only ones that are usually included in Cumulative Updates.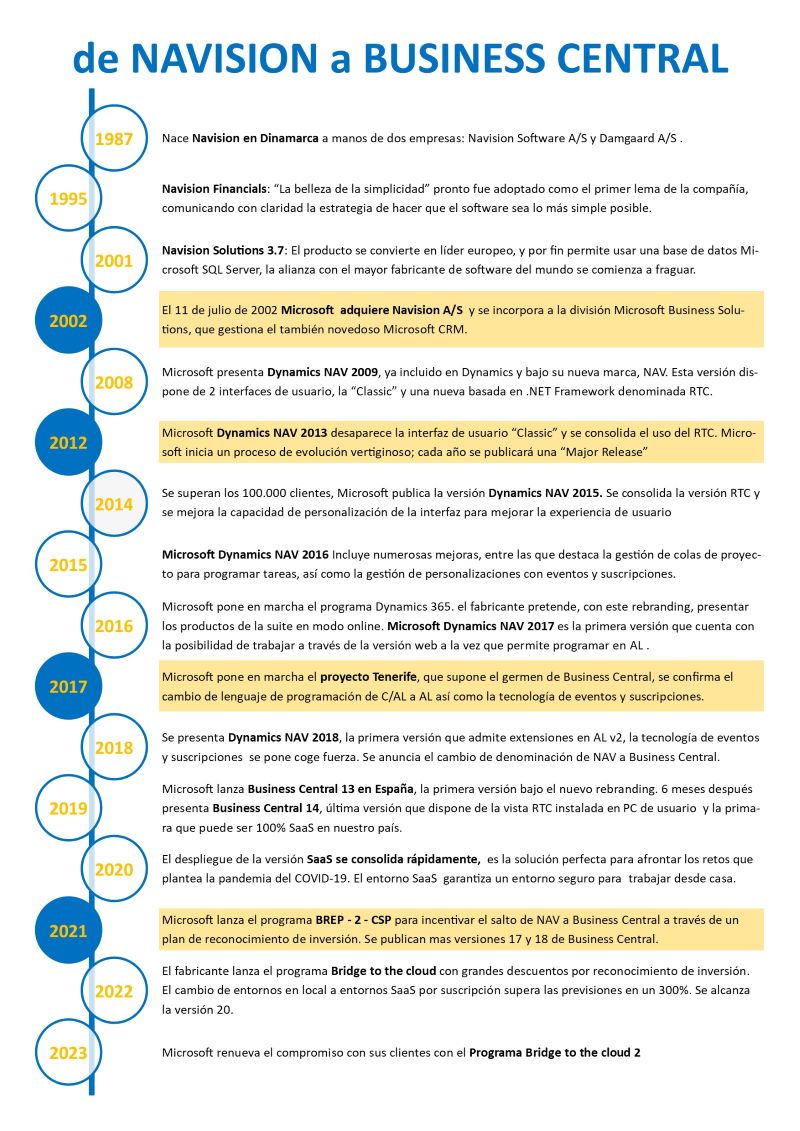 Knowing this, it would be a good idea to start planning the migration to Business Central slowly but surely. We are convinced that SaaS is the best option, but Microsoft gives the option of continuing on-premises or, as it is now called: OnPrem (the database and the service mounted on its own server).

In the imagination of our customers "migration" is usually synonymous with "expensive". Is this the case here?
It should be noted that, depending on the level of customisations you have in NAV 2018 (or earlier), the cost can be very high. Moving to Business Central is not just about getting used to a new environment or a new icon on the desktop. Behind this change is a technological revolution; Microsoft has changed both the programming language and the programming paradigm that we partners use. However, it has a great advantage: if you opt for SaaS, this will be the last migration that you will have to assume, since, thanks to this new technology, Microsoft will take charge of future migrations without the client having to make any outlay EVER AGAIN to be always updated to the latest version.

The so-called "move to extensions" involves a greater effort than the migration "of all life", since all these customisations must be analysed and reprogrammed to work in Business Central. We have hundreds of migrations under our belts, and we already have a large majority of our customers working in Business Central after migrating from NAV 2018 or earlier.

From a user point of view, what changes?
The biggest change in moving from NAV 2018 to Business Central is the interface, as in Business Central there is no installable application on the user's computer; a modern browser (Chrome, Edge, Firefox, ...) is used to work with Business Central, so maintenance is much simpler.

Although since NAV 2013 there was a Web client (which was not installed by default), this has been completely redesigned in Business Central to offer a better user experience. It should also be noted that most of the hotkeys have been changed, this, for those of us who like the keyboard more than the mouse, is a problem, but only at first...

As part of the migration, we offer some adaptation sessions so that users can see that the same things they did before NAV, they can now do in Business Central, here they can see that it really is the new version of Navision and not something totally new (although at first glance it may seem so).



What are the solutions that rival Business Central in the market?
Internationally we have SAP Business One. A less powerful derivative of the well-known SAP. The target is the SME market; the same as Business Central. At a more local level we have A3ERP or SAGE. And, in my opinion, neither offers the flexibility and scope of Business Central.

What characterises Microsoft Dynamics Business Central?
For me, there are several points that make Business Central stand out from the rest:

- A SaaS that is very easy to get up and running.
- An AppSource that no other ERP has.
- A totally free development platform: Visual Studio Code.
- The possibility for anyone to develop their own extensions (and I'm not just talking about Partners).
- Continuous improvements... in each version there are new improvements that help the company to carry out its work better, and currently there is a new version every 6 months.
- An own API. From any other software you can interact with Business Central using its API, all well documented (speaking of APIs, with an extension you can create your own APIs).
- Finally, as an ERP, it contains everything you would expect: Accounting, invoicing, customer and supplier management, SII (in the Spanish version), warehouse, assets, projects, services, manufacturing and intercompany.

Do you consider that Business Central is advancing at the same pace as market demands?
The truth is that it is amazing to see that Microsoft is releasing 2 versions of Business Central per year, this is unusual, and it has been doing so since the first version of Business Central (version 13, now we are on version 21 and in April we will release version 22). Business Central still has room for improvement, it is not for everyone (although it is not a product designed for large companies, there are large companies that use it due to its versatility).

Business Central is never going to offer everything that the market demands, that's impossible, but that's why we have the Partner network, to offer what Microsoft doesn't offer, and we have the AppSource to publish our solutions so that any company that uses Business Central SaaS can install it with a single click.

What role plays Dynasoft?
As a Microsoft partner, especially for Business Central, our job is to accompany our customers in the adventure of this great ERP. We offer them training and start-up services through our consulting department, and a suite of products to solve most of their accounting and tax needs.

We are also looking for partners to offer the best services in other areas and to give added value to our proposal, the last ones we have added are:
- Embat: treasury solution with direct connection to banks and full integration by Dynasoft.
- Pleo: solution for employee expense management
- Document Capture: Continia's solution that allows Business Central to scan and, from the scanned document, generate the purchase invoice (or other documents).

Our aim is to ensure that the client has everything they need at an accounting-fiscal-administrative level covered, and to provide that extra service which, I believe, is part of our hallmark.